Cartoonist Hugh MacLeod of gapingvoid.com talks about creative sovereignty, the business of art, and the pursuit of blinding moments of clarity.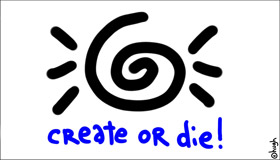 For people who haven't read your book yet, can you share one or two of its key themes?
HM: The book's called Ignore Everybody
. I first published it on the blog under the title How to Be Creative. And it wasn't really an instruction manual — I wasn't telling people what to do. I was talking about the landmines I hoped they wouldn't step on because landmines are expensive to step on.
My main thesis is that when you first have a good idea, there's no one who can really tell you whether the idea is good or not. For it to be any good, it has to be so out there, there's no point of reference. Also, really good ideas, once they're executed, tend to alter the power balance in relationships, and people are very conservative about changing power balances. I think it was chapter 4 where I said that good ideas have lonely childhoods. The initial loneliness of a good idea is to be expected.